The following Post was composed by Sheetal Mishra. You can follow her on twitter.
---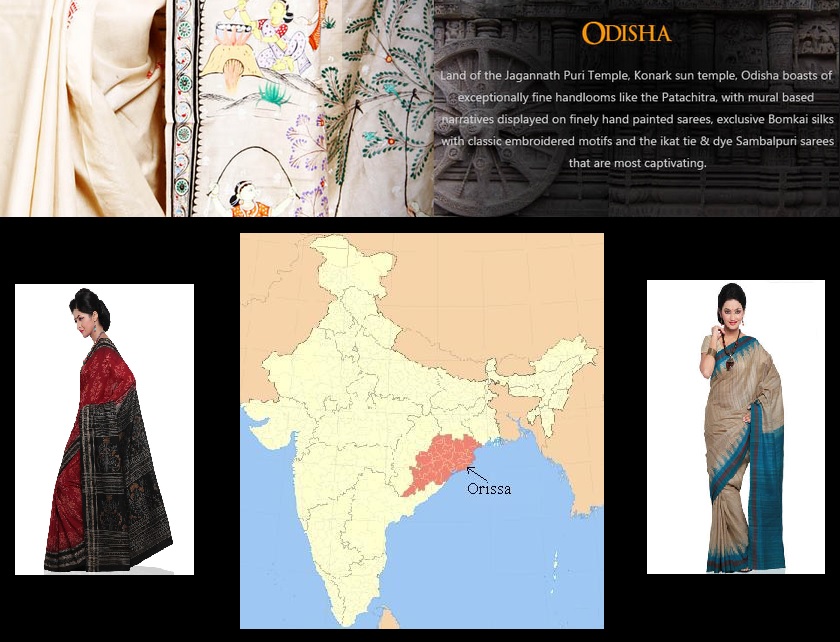 Amidst India's myriad offerings in the domain of art and culture, none represents a greater artistic grandeur than Odisha's exquisite hand woven Sarees . A motley crew of weavers in this coastal state create sublime designs on a variety of Sarees like Sambalpuri, Bomkai, Maniabandha, Khandua, Nuapatna, Pasapalli, Berhampuri Pata that fascinates people across the globe. Each region in this beautiful state has its own peculiar design that gives the sarees an identity of their own.
Once upon a time weaving clothes was an important means of livelihood for the people of Odisha. It is also interesting to note that Odisha's caste system is largely influenced by weavers and many castes were created as per various categories of weaving. It indicates the preeminence of this profession in the glorious history of Odisha.
Odisha, also known as Utkala and Kalinga, has a rich tradition of ikat handloom which stands out among rest because of its fine patterns and designs. It showcases one of the finest qualities of double ikat silk and cotton handloom sarees with very unique and beautiful patterns in borders and pallu. Use of vibrant colors, variety and fineness are distinctive features of Odisha's handloom sarees which suits every taste and pocket. Most of these varieties are a product of Ikat (Tie and Dye). Double Ikat Sarees are produced in Odisha since time immemorial and is unique to this region.

It is also referred as "Bandha" in local language, Odia. In Ikat method the yarn is subject to tying in sequences. Then weavers dye the required areas in the desired color. By this method they dye and soak into the exposed portions and the tied portioned are left from the dyeing effect. As a result, you have a systematic sequence in the yarn which is then put to weaving. This sequence is a preconceived design of the weaver. This sequential tie and dye method allows the weaver to form the designs in various colors. This technique is quite different from the "Bandhani"method adopted in other States like Gujarat and Rajasthan.
Some statistics according to Government website:
Type Region Looms Production potential (In lakhs) INR
| | | | |
| --- | --- | --- | --- |
| Type | Region | Looms | Production potential (In lakhs) INR |
| Silk Tie-dye, Silk and Cotton Bomkai | Boudh, Sonepur | 6773 | 4063.8 |
| Khandua Silk Saree | Cuttack | 2255 | 1217.7 |
| Cotton tie-dye Saree and Furnishing | Bargarh, Sonepur, Bolangir and Nuapada | 8045 | 3816.6 |
| Tasar thana saree and furnishing | Bargarh, Jajpur, Balasore, Nuapatna | 2424 | 1163.52 |
| Berhampur Silk Saree Joda | Ganjam | 609 | 292.32 |
| Single count fine cotton Saree | Jagatsinghpur | 2234 | 804.24 |
| Medium variety cotton | Jajpur, Khurda, Bargarh, Bolangir, Ganjam and Nayagarh | 5563 | 2003.47 |
| Course variety cotton | Bolangir, Cuttack, Khurda, Kendrapara, Nayagarh, Puri, Nuapada,Kalahandi, Kandhamal, Balasore, Bhadrak & Sambalpur, Sonepur | 17220 | 5166 |
According to "Third National Handloom Census of Weavers and allied workers" in Odisha only 40,683 household are engaged in weaving or allied activities. Out of that only 1,416 households reside in cities.Most of them are uneducated. Adding salt to injury, the average annual income per weaving household is a meagre 30,000 to 32,000 INR.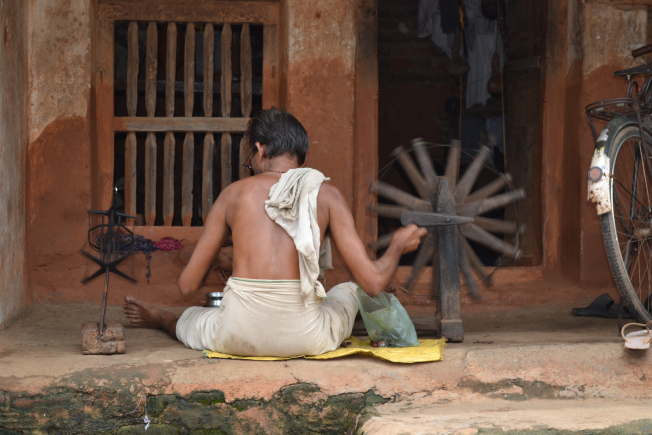 It is appalling and concerning that the people who carry forward our culture and tradition in a very creative way since ages are struggling to make ends meet. Shall we only act as a passive protestor and let them lead a miserable life?
Could we allow these adverse conditions destroy Odisha's rich tradition? Is there anything that can be done to revive Odisha handloom? Handloom products are good for the skin and are very durable. They can be used as curtains, clothes, bed sheets, and doormat and has got many more applications. Actors, designers, political leaders and most importantly the common people, can promote handloom in their day to day life and bring it to the limelight from its murky existence. Prime Minister Shri Narendra Modi rightly pointed out that Indian handloom products lack global branding. Honorable Prime Minister, who himself is seen wearing handloom products on many occasions, appealed the masses to use at least one khadi product to brighten the lives of the producers.

Reputed fashion designer Manish Malhotra just revealed his latest handloom collection- "The regal threads, and paid tribute to Gujarat and Benaras weaves. South India designers like Shravan Kumar Ramaswamy, Gaurang Shah, Vivek Karunakaran are aggressively promoting handloom among Indian celebs. Like that, Odisha handloom Industry needs to be marketed globally. Famous designers have to explore this fabric and re-introduce to the world.
Odisha state government has roped in top fashion designers like Sabyasachi Mukherjee, Rajesh Pratap Singh and Bibhu Mohapatra to promote and popularize Odisha handlooms and textiles within the country. They will work with the weavers to preserve the old traditional designs and train them about new pattern and trends of handloom industries. Added to that, both Central and state Govt. should actively promote Odisha handloom along with Odisha tourism. Inclusion of more and more weavers under insurance schemes, strengthening co-operatives, re-branding and marketing of Odisha Handloom products would take our textile industries to places.
As a woman I have always been fascinated by handloom products for its variety and uniqueness. That is why this blog came into existence. Before concluding, I would like to suggest a few designs made out of different handloom products for both boys and girls. You can look stylish while wearing handloom products also! Though I don't have pictures of dresses made out of Odisha Handloom products, these references can help you to style your own handloom dresses.

When palazzo, patiala salwar, hot pants, maxi dresses, short skirts, dhoti trousers are trending in this fashion season, girls flaunt these with our handloom products. A well stitched vase coat is a style statement for both boys and girls. Stitch one with Handloom fabrics. Boys can also experiment a lot with Odisha Handloom fabrics. Try out making "Nehru Jackets, Khadi shorts, shirts, pathani suits, Dhoti trousers and short kurtas". It's high on style quotient and comfort level.
Let's join our hands to promote Odisha Handloom world wide. Buy, gift and motivate others to do the same. Let's create blogs, photo blogs and share it actively on Print media and social Media!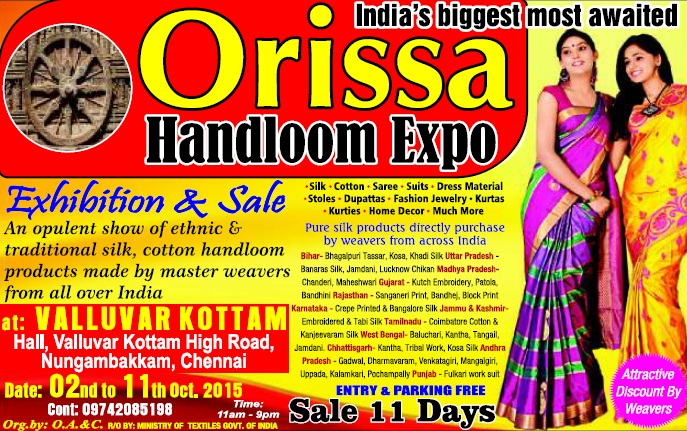 References:
All statistical data derived from "Third National Handloom Census of Weavers and allied workers 2009-10"
http://she9.blogspot.in/2014/07/khaadi-man-shalwar-suit-collection-2014.html
https://www.jaypore.com/white-khadi-yoga-dhoti-men-p11392
http://www.thecrispycorner.com/trend-called-bandi/
https://www.etsy.com/in-en/listing/195372783/boho-hippie-shorts-summer-shorts-light?ref=related-4
---
Disclaimer: This article represents the opinions of the Author, and should not be considered a reflection of the views of the Indic Civilizational Portal. The Author is responsible for ensuring the factual veracity of the content, herein.