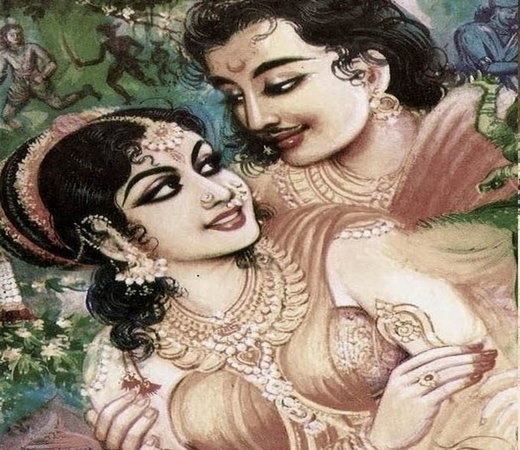 India, Indic Civilization, and Bharatiya Sanskriti have produced many noble and spiritual figures. But as those of us who grew up Indian know, it is very much work hard & play hard.
Colonial stereotypes  were convenient for those who were trying to change the religion of the people of Bharatavarsha. They failed because those who know our tradition know fun and frolic and yes even Romance has always been very much part of our traditional culture and festivals (perhaps that is why they are trying to doing everything they can to take away the fun…only for Hindu festivals of course).
Therefore, perhaps it is time to not just play defence and preserve what we have, but to go ahead and revive what was originally part of it. The youth of today very much exercise freedom, and naturally when they become college-age, it is only natural to be more interested in spending time with the opposite gender. Indeed, this too is ok, provided it is done respectably and with good intentions. As we wrote in our article on Sringara, Romance—real romance—is not just a pretext to "consume" or "purchase" love from hallmark or godiva. Love is not merely a "veneer" to give respectability to serial and animal lust. This is the danger of de-sacralisation (removing the sacred), whether it is removing Dharma from Yoga, taking the Veda out of Ayurveda, or turning Vasant into some sufi-bolly "Basant".
In fact, lost in all of these efforts has been the fact that from ancient times itself we had something our Valentine's day obsessed youth don't know—our own Dharmic Festival of Romantic Love: Madan Utsav.
Madan Utsav — Indic Festival for Romance
Love is our reason for being. pic.twitter.com/myxpJ2TaLE

— Krishna Dharma (@KrishnaDharma) June 25, 2015
Contrary to Valentine's lovers who swear by the Catholic St.Valentine as the embodiment of Romance, Ancient India long had a festival that celebrated Shringaar. Vasanta Utsava was the traditional multi-day Spring Festival. Holi has come to represent two such days (with the burning of Holika during Choti Holi the night before). While Kama is associated with Spring, Madan Utsav begins on Chaitra Shukla Trayodasi, and thus is a month later than Holi. This is due to the discrepancy between the Purnimanta Calendar in most of the North and the Amanta/Amavasyat Calendar in Peninsular India. Thus, the reason why Holi and Madan Utsav (currently a month apart) would have been celebrated as part of the two-week Vasanta Maha Utsav is because of the general use of Amavasyat in all of India at one point. Restoring Amavasyat would restore the continuity of the two week Spring Festival, starting from Holi and ending with Madan Utsav. That is why Madan Utsav was traditionally synonymous with Vasant Utsav (and perhaps should be again).
In fact, it has historical precedence in many parts of the country, but especially Andhra. In fact, one king of the Reddi Dynasty, which presided over the Romantic Age of Andhra, came to embody the spirit of Spring, and also personally inaugurated Madan Utsav. It was a festival of great festivity and cheer.
Madan Utsav is also mentioned by our great poets, Kalidasa and Sriharsa, in their plays. Jayamangala, a commentator on the Kamasutra, in fact gives primacy to this day over the other constituent parts of Vasant Utsav, and mentions the name Madhanamahotsava. [1, 353]  This is a festival devoted to Madhana or Kama Deva, god of Love, assisted by his friend and ally Vasant, the presiding deity of the spring.
Madan Utsav celebrates the return of Madan to his wife Rati.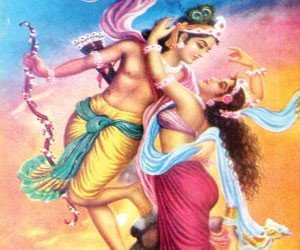 "It was primarily a romantic festival involving fun and frolic, music and dance, song and play, swinging, and swimming and all kinds of amusements." [1,354] "Both men and women, young and old took part in this festival and marched in procession in streets, singing love songs and dancing to the accompaniment of music. Generally dancing girls and their paramours took an active part in these frolics" [1, 354]
That's right. Hinduism, or more correctly, Sanatana Dharma, was never only just about ritual, or caste, or boring severity, but very much achieving a balance between fun and duty. Dharma to guide Rasa (sentiment), and Rasa to enrich Dharma. Morals, and laws, and virtuous examples don't exist to restrict the fun of men and women (or boys and girls). They exist to protect individuals from each other and also to protect us from ourselves and from our greed.
Romance and love in the right context (marriage…or at least the path to it) very much makes life worth living and contains the full spectrum (erotic, romantic, & spiritual). But Romance without restraint ends up being, well, the disastrous state of affairs we have now. When no respect or regard is given to sacred relationships between the genders or even between family members—then isn't what is being called "love", really lust?
Love is seeking to give pleasure to someone you love. Lust is trying to extract pleasure for yourself. Lust is selfish, Love is selfless.
Desiring to please one's beloved is love, but desiring to please yourself is lust. #Krishna #Bhakti pic.twitter.com/HqegzNoZzq

— Krishna Dharma (@KrishnaDharma) June 1, 2015
That is the reason why Madan Utsav is the real Festival of Love for Bharatiyas, rather than some corporate "Global" spend-fest. There was a great carnival and the King (or Civic Leader) would go to a park specially decorated for Vasant. There would be a pandal for Kama & Rati, Vishnu & Lakshmi, Siva & Sakti, and Indra & Sachi. Perfumes such as camphor, musk, civet, saffron, sandal were used, rosewater was freely sprinkled on people along with water mixed with turmeric. A bamboo water soaker was used (like in Holi). People mixed freely and the kings gave it royal grandeur . [1,357]
There is in fact broad evidence to the existence of Madan Utsav beyond Andhra's Reddi Kingdom, or even the Vijayanagara Empire.
There are accounts for its existence in the Madhyadesa (modern Uttar Pradesh) and Kashmir as well as discussions in the Puranas, about the festival and its origin.
Here is what the ancient Kashmiris celebrated:
Then there was the Madana Trayodashi, a festival dedicated to the god of love. On this occasion a husband would demonstrate his love for his wife by personally giving her a bath with sacred water scented by herbs.[4, 87]
Madana Utsava  is frequently referred to as Madana Trayodasi, as it is celebrated on the 13th day of the Shukla Paksha of the Month of Chaitra (Early April). Being celebrated in the bright half of the moon, it can even extend to next day and thus, there is even a Madana Chaturdashi, which is the 14th day of the Month of Chaitra (for all you 14th of February fans).
The record of Madan Utsav in Kashmir's ancient Nilamata Purana testifies to this as well.
The reason for this lies in the festival's origin:
Festival Significance
When the happiness of someone else is your happiness, that is love. pic.twitter.com/KqoZBTaHsS

— Krishna Dharma (@KrishnaDharma) October 2, 2015
Vasant Utsav and Madan Utsav have often been referred collectively. And yet, elsewhere we see a clear distinction between the two festivals with Vasant. Thus, traditionally, Madan Utsav seems to have been synonymous with Vasant. But given the divergences and exigencies of the time, perhaps its more appropriate to distinguish the two, while preserving the importance of both.
Here is the traditional story of the origin of Madan Utsav:
"This festival of Madanamahotsava is described by Hemadri in his Vratakhand, wherein he narrates the following story about its origin. After marrying Gauri, Siva, observing Pasupatavrata, lost himself in meditation. Gauri's desire for maternity remained unfulfilled.
Brahma and other gods held consultations and sent Madana to disturb Siva's meditation, with the hope that he alone could divert Siva's attention. Madana accompanied by Vasanta, went in front of Siva who was then in deep contemplation, and having drawn his sugarcane-bow, discharged his missiles of flowers on Siva which disturbed his deep medi-tation and caused mandonmada or love madness.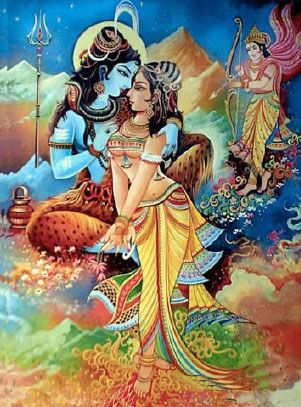 Siva burst into a rage and opened his third eye of fire reducing Madana to ashes. Madana's wife, Rati, seeing her husband burnt to ashes, was stricken with great grief. Then with a heart softened by seeing her pitiable condition, Gauri said to Siva, 'you have burnt up Kama who had come here for my sake. Pray, take pity on his wife Rati, and bring Madana, her husband, back to life.' Siva replied, "How could Madana, once burnt to death by me, come to life again?"
 "However, I shall grant your request. In the spring season, on the thirteenth day of the light half of the month, he would reassume his bodily form."  Having granted this boon, Siva is said to have gone to Kailaasa. So the lunar thirteenth day of the bright fortnight was the day of Madana coming to life again. Hemadri does not specify the month; but simply states that it is in the spring time. It is evident that it is the lunar thirteenth day of the bright half of the month of Caitra. This spring carnival is therefore called Madanamahotsava or Vasantotsava" [1,355]
This also aligns, of course, with the Spring Festival of Holi, which features the Holika Dahan. This is referred to as Kamuni Dahamu in parts of India, where a bonfire is lit to burn away attachments.
Celebration
How to celebrate Madan Utsav? While jnu "global" types suggest finding a random partner and running off to the nearest park or motel, Bharatiya sanskriti is more sophisticated. As we saw above, whether in Kashmir or Kosta (Coastal Andhra), Madan Utsav was celebrated by the entire society. Not just Kings and Queens, but traditional Brahmins, fun-loving masses, and everyone in between. The only difference is that achara (good conduct) and sabhyata (etiquette) were observed. In public, one must behave with respect/courtesy (maryada) to elders and senior citizens.
Public Celebration

Love for God means love for his creation and all his creatures. pic.twitter.com/E88moHUfHY

— Krishna Dharma (@KrishnaDharma) June 22, 2016
Public celebration of Madan Mahotsav, specifically in the context of Vasant Utsav, is mentioned in both the Malavikaagnimitram and one of Sriharsa's famous plays celebrating the famed Manmatha of Madhyadesa, King Udayana—better known as Vatsaraja. Here is an excerpt from Ratnavali on the public celebration and all it entails:
"His Majesty has started for the palace to witness the merriment of the citizens, heightened by the Madana Festival. (Looking up) Ah, how now! The King has ascended the palace! He, The lord of Vatsa, like the flower-bowed god (Madana) in person, as it were, with all talk of Vigraha (the war-body) ceased, having Rati (love of the people—his wife), living in the hearts of the people and one to whom Vasantaka (his companion—Spring), is dear, is advancing, eager to behold this great festival."[7, 120]
"Just behold the beauty of this great Madana-festival, in which curiosity is excited by the citizens (or gallants), dancing as they are struck by the water from the syringes [pichkaris] taken up, of their own accord, by the amorous women intoxicated with wine; which is attractive on account of the openings of the streets resounding with the sound of charchari songs (or clapping of hands) deepened by the tabors beaten all round, and which has rendered the faces of the ten directions yellowish-red by means of the heaps of patavasa [flowers] scattered about." [7, 121]
"By heaps of scented powder scattered about, yellow with saffron dust and imparted to the day the appearance of the dawn, by the glitter of gold ornaments and by the wreaths of  Ashoka flowers that cause the heads to bend low by their weight, this Kausambi, which has surpassed all the treasures of the Lord of wealth by its opulence apparent from the dresses (of the people), and which seems to have its inhabitants covered with liquid gold as it were, appears all yellow. Moreover, In the courtyard which is flooded all over with the continuous streams of water ejected by the foun-tains and where sport is carried on in the mud caused by the simultaneous and close treadings, the yon pavement is reddened by the people with the imprints (lit.plantings) of their feet, red with the colour of the vermillion" [7, 122]
Kaushambi is in modern Uttar Pradesh. Thus from Kashmir in the Uttarapatha to Kaushambi in the Madhyadesa to the Kosta in Andhra Pradesa, Madan Utsav was celebrated throughout classical Bharatavarsha.
By the way, although this is a legendary love story involving King Udayana and Princess Ratnavali, there is war and adventure, so there's something in it for the guys and girls.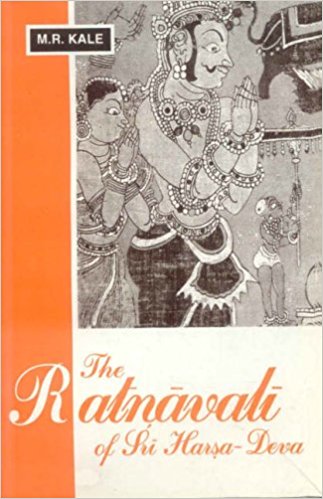 Family/Community Celebration
"The Pujavidhana or the mode of worshipping Madana is also described by Hemadri. It is said that, on the thirteenth tithi of the bright half, a representations of the Asoka tree should be made after taking a bath, and the floor should be decorated with kolams. Images of Kamadeva, Vighnesvara, Siva and Vasanta and Apsarogunas made either of gold or of any other metal or material, should be worshipped with incense, sandal paste, and flowers at midday by the king, along with his ministers, ladies and others. After the completion of worship, offerings of cakes of different kinds should be made to them and betel be distributed among brahmin couples with daksina." [1,355]
Couples
Love means trust, but above all it means trustworthiness. pic.twitter.com/aZS69xEaoi

— Krishna Dharma (@KrishnaDharma) December 18, 2015
Couples should offer new clothes, gifts, flowers and ornaments to each other. "Those who observe this Madanamahotsava are enjoined to keep holy vigil that night, and perform rasa-mahotsava or love-dance. Lamps should be lit, and wine should be offered to sudras [or rather those who drink], and camphor, kumkuma powder, sandal paste and other perfumes and betel should be distributed."[1, 355]
Thus while the wife would worship her husband on his return (as the embodiment of Kama Deva), the husband in turn would worship her after her sacred bath, as we saw in Kashmir.
This mutual reverence demonstrated not only respect for both genders but also gives the correct understanding of matrimony and even sex as sacred—in contrast to modern consumer society where it is lust on demand and for the highest bidder. Lust is not Love  nor is Lust even Erotic Love or Erotic Desire. Lust is selfish greed for sex. Erotic desire is not condemned (in the right context). Lust is condemned (in any context).
Lord Krishna teaches detachment
Love gives without expecting anything in return. pic.twitter.com/DYlvi706Om

— Krishna Dharma (@KrishnaDharma) July 28, 2016
"Sri Krishna relates to Arjuna in Bhagavadgita (Ch.2.62 & 63), on the battlefield of Kurukshetra (a place near Delhi) in Mahabharata that:
Dhyayato vishayaan pumsah, vangas teshupa jaayate
Sangaat sanjaayate kaamah, kaamat krodhobhi jaayate
Krodhad bhavati sammohah, sammohat smriti vibramaha
Smriti bhramsaad buddhi nasho, buddhi maashaat pranasyati
While contemplating material and sensual objects, persons become attached to them. Such attachment develops lust and lust generates anger. Anger leads to delusion and delusion to mental bewilderment. When the mind is bewildered, intelligence and discretion is lost. Loss of intelligence and discretion leads to downfall of the person." [6]
Kaameswara – Lord Shiva Conquers Lust [6]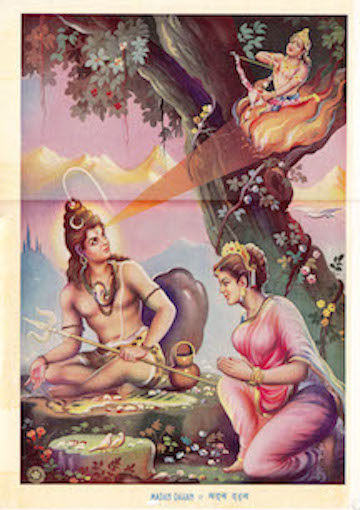 Kama (pronounced Kaama) is a very interesting word. Like many words in Sanskrit its meaning is context sensitive. In some contexts it means pleasure, in others it means love, and in this situation it means lust (kaama-moha or kaama-unmada). It is because of this danger (which Sri Krishna warns about) that Lord Shiva had to show us the importance of conquering Lust.
The reason why there are so many regulations and rules and such detailed morality regarding sex is because it is the most powerful of aspects in life. This is the case not only for its creative power, but due to its attractive power, its physical power, and even its spiritual power. The key to conquering lust, therefore, is not through celibacy-sans-saadhana, but by correctly connecting sex with love (if you do take the oath of celibacy, you must follow the saadhana that our sadhus do to succeed). Love comes in many forms. When you are capable of real romantic love, however, then the selflessness it demands, opens the door to Divine Love.
Reason gets you to God's door, but only love gets you in. pic.twitter.com/bk2071zgAc

— Krishna Dharma (@KrishnaDharma) April 29, 2016
That is why the Madan Utsav itself is signified by Lord Shiva destroying Kama. He is referred to as Kaameswara and Maara-ripu because he conquered lust. When lust is conquered, then the full spectrum of love from the erotic to the romantic to the spiritual can be properly enjoyed. It was only after this that Mahadev and Parvati Devi endeavored to create the God Kartikeya.
That is why, unlike Valentine's Day, Madan Utsav signifies the sanctity of the bond between woman and man, and especially, Wife and Husband. So yes, there is the erotic (rati), yes there is the romantic (sringara), but Madan Utsav is also about the spiritual (adhyatmika), which makes the erotic & romantic healthier and more meaningful . When wife is viewed as sacred, the husband refuses to exploit her (and vice-versa—yes ladies, what's good for the gander…).
That is why you should celebrate Madan Utsav: the whole society comes together to celebrate Love in happy abandon, and all participate in their own way. Less orthodox castes used to be gifted wine while traditional brahmanas were gifted betel leaf. The day would begin with all of society coming together in respectable but enthusiastic celebration, with the night obviously ending between wife and husband.
In contrast to the consumer-driven, hallmark inspired veneer of romance for lust that is Corporate Valentine's Day, Classical Indic Society celebrated the full spectrum of love in the proper context. Yes, dancers and actresses and singers, etc had their paramours and inspired people to celebrate, but the engaged (or about to be) and the married were naturally the core of the festival. Young and old, upper caste and lower caste, elite and mass, woman and man, all celebrated what we all know to be part of our nature…but in the right context…in the right way…in the right time.
How to Start?
God is moved only by love. pic.twitter.com/POoQWCYBBY

— Krishna Dharma (@KrishnaDharma) May 28, 2016
It has been many centuries since the days of Ancient Kashmir or Medieval Andhra, so how can a beautiful festival be celebrated today? If you are reading this and are unmarried, you can tell people in your college or organise a group of friends your age and go to the park and sing your favourite love songs (they can be from Indian movies or popular music). If you are even more adventurous you can make (safe) flower-head arrows using a children's bow or slingshot and pretend to be Kamadev, returning. You can distribute the traditional bamboo water soakers from Holi for rose-water or sandalpaste water (saving the colours for that special Festival of Colours).
If you are not single, then you know to exchange gifts, express love and affection, recite Poetry, and of course, dance the Rasa Mahotsav and the dance of love however you see fit.
But most importantly, if you care about our culture and tradition, be sure to tell your friends and family about Madan Utsav and how they can celebrate on Madan Trayodasi (Thirteenth day of the bright half of the lunar month of Chaitra, which is in Early April, see below for this year's date).
Celebrate Madan Utsav!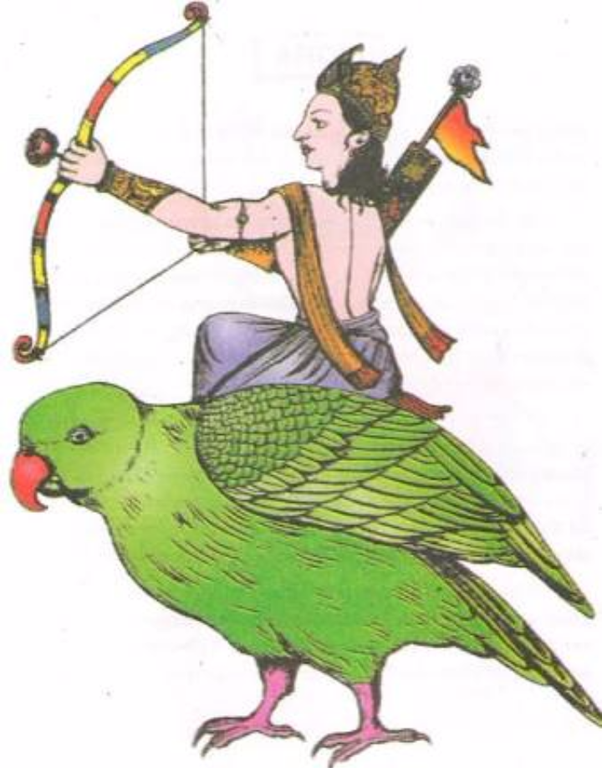 Date:
April 9th, 2017
Public Activities:
§ Spread the word in your College or Social Group. Hand out flyers explaining the day.
§ Greet or Yell "Shubh Madan Utsav!". Find a public place or reserve one for celebrations.
§ Spray rosewater/sandalwood paste waster with pichkaris or gently throw flowers.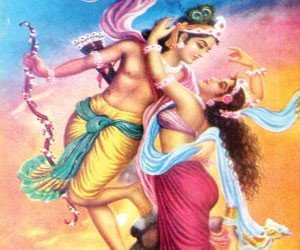 § Sing your favourite love songs as a group and/or via Shringaar-themed Antakshari
§ Play Romantic instruments like the flute or hire professional musicians
§ Dance using Dandiya sticks—or Bhangra too if you are inclined to Punjabi.

Family Activities: Extended family can celebrate by lighting lamps, singing songs, giving tambula to those in home, colony, apartment or housing development. Of course, those of you who drink wine, will know whom to give it to, whom not to give it to, & when to drink it.
§ Draw Rangavali/Rangoli/Kolam during the Day. Light lamps at night.
§ Have a great feast in your community. Make garlands and swings of flowers. Play music.
§ Give gifts depending on how orthodox you or others are (betel leaves for some, wine for others)
§ Sing, Dance,use a safe (children's toy bow)/slingshot for soft flowertip arrows or flowers.
Married Couples: Exchange gifts,  express affection in preferred manner (see above).
§ At the start of the day, wife welcomes husband as embodiment of Kama Deva

§ During the day is the chance to express love (rather than PDA) either in public celebrations or private, via music, song, poetry, dancing, etc.
§ At end of the day, husband returns favour and gives gifts & shows love for wife (see "Kashmir option" above)

Kama is the embodiment of Romance and his wife Rati is the embodiment of well, rati.
So Happy Festival of Love, in advance. Or as we should say in Bharat…
Shubh Madan Utsav!!!
April 9th, 2017
We are born of love, and to love we must return. pic.twitter.com/lxNyUHNjRZ

— Krishna Dharma (@KrishnaDharma) February 20, 2017
References:
M.Somasekhara Sarma. History of the Reddi Kingdoms.Delhi:Facsimile Publ. 2015
Rajan, Chandra. The Complete Works of Kalidasa: Volume One (Poems).Delhi: Sahitya Akademi.2005
Dutt, Manmatha Nath. Garuda Puranam Calcutta.1908.p.355
Kaw, M.K. Kashmir & its People: Studies in the Evolution of Kashmiri Society.New Delhi: Saras Graphics.2004
http://www.hindu-blog.com/2010/03/madana-trayodashi-2010-date.html
http://www.saibabaofindia.com/spiritual_meanings_for_holi.htm
Kale, M.R. The Ratnavali of Sri Harsa-Deva.Delhi: MLBD.2011