As we've argued before and as we've seen from the last few articles, the time to put an end to this Colonial Narrative of the "Invasions Idea of India" has arrived. The history of the Pratiharas and the Paramaras and the Vijayanagara Rayas are all forgotten for those who wish to downplay notre histoire militaire. Can't let those yindoos get uppity, n'est pas? Ironically, British history is itself the story of invasions, beginning with Geoffrey of Monmouth's Brutus (legendary Exile of Troy), and on to the Romans, the Angles & Saxons, the Vikings, and the Normans (and apparently now, the Pakistanis…).
From the Chinese to the Persians to the Greeks to even the propaganda heavy Brits & continental Europeans, all major civilizations have faced invasions at one time or another. The question has been whether they went extinct like Zoroastrian Persia and Pagan Rome and Pre-Norman Britain, or whether they fought and lived for another day, like Dharmic India.
For all their complaints about the Puranas, the same British colonial propagandists, I mean, historians, had no problem using some apparently forged "Yuga Purana" as proof of some imagined Indo-Greek campaigns in Northern India (bolstered by possibly forged coins, no less). As we demonstrated in our previous article, the Yavanas of the Puranas didn't refer to Greeks, but excommunicated Vedic Indians who lived in Afghanistan, and later spread West to Persia and beyond. The British colonial historians purposefully interpreted things in a way to ensure their purposes of self-glorification.
But since our anglicised Indians—and even a few odd man-children moonlighting as internet hindus— still operate within various colonial and neo-colonial boxes, let us give one Purana for another. Yavanas are in fact mentioned long before the Yuga Purana, in the Harivamsa Purana for example, and a mighty monarch of the Solar Dynasty, the Great King Sagara, is recorded to have defeated the Yavanas.
One wonders if western "Indologists" will insist that this Great, Great Grandfather of Bhagiratha (who brought down the Bhagirathi) and ancestor of Sri Rama, was in fact fighting these same Yavana/Indo-Greeks. "Of course not, dear boy, these 'Yavanas', were defeated by Indians…how the devil could that be possible?". Umm,  Wadgaon? Chillianwala? There are, of course, more "historical" examples of Indian victories over invaders, not just temporary, but even permanent (i.e. Huns, Sakas, Battle of Rajasthan, etc). But the benchmark for all of these must necessarily begin at the beginning.
Now that foreign double-standards have been exposed, we may now start with the Story and Achievement of the Great King Sagara of the Suryavamsa: Repeller & Humiliator of Invaders.
Background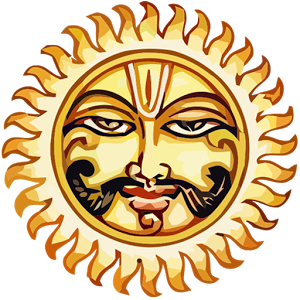 Maharaja Sagara was more than a mere Emperor or legendary King. He was not just the ancestor of the noble Bhagiratha and the divine Sri Rama. Sagara was a Dharma-rakshaka in the true sense, and set an example as to how one must single-mindedly defeat, uproot, and punish those who dare set eyes upon our sacred lands, let alone invade them.
Previously we discussed Svayambhuva Manu of the Svayambhuva Manvantara, who is the progenitor of all mankind per our tradition. The present manvantara, however, is the Seventh, and is called Vaivasvata. It is named after Vivasvaan whose son Vaivasvata Manu, from Dravida desa, is the present Manu. His son Ikshvaku is the namesake for the illustrious Ikshvaku branch of the Solar Dynasty. From this lineage came many a mighty, noble, and truly Dharmic King. The names Harischandra, Ambarisha, Raghu, and above all, the towering Rama Dasarathi himself, dot the tree of this family. But one name has not received its due in the present time, and that is the name of Sagara.
Lineage
It may often be wondered whether it is the Solar Dynasty that itself produces such illustrious kings or whether illustrious kings themselves naturally seek out the Sun. In any event, the son of King Bahu (a.k.a Bahuka) and Queen Madhuravani (also called Kalindi), is a towering figure in an already towering lineage. The dynasty which began with Ikshvaku and leaves off at Sumitra(at least officially…) , had yet another worthy in the Sagara of Sixty Thousand Sons. From Legend to History, it is Niti and Dharma which stand the test of time. These are the examples, the nidarsana katha, that educate us on proper conduct, both private and public. If adversity is the test of men (and women), then let the ambitious prove themselves on their own merit, like mighty Sagara. He, whose deeds earned him his place in this brilliant vamsa, had many worthy forebears and successors.
After his father was driven out of Ayodhya by the Haihayas and their Yavana, Saka, and Pahlava allies, he went into exile in the forest. There he eventually took to penance and passed away. His chief wife wished to join him on the funeral pyre, but was prevented by the Rishi Aurva, who stated she was pregnant. She was to give birth to a mighty Emperor who would avenge his father and restore his dynasty to greatness. He was named Sagara as he was 'one who could absorb poison'. His jealous step-mother attempted to poison his mother Madhuravani when she was pregnant with him. Nevertheless, due to divine grace, poison was turned to nectar, and he was born healthy.
He was a gifted student and a talented prince, mastering the Vedas, Vedangas, Politics, Arts, and the Art of War. Appropriately for this dynasty, he was a master archer, perhaps a sign of greater things to come. A great bhakta of Lord Vishnu, he attained success at a young age, becoming virtually invincible in war, and a conqueror in his own right, ruling righteously. He married Princess Sukesini of Vidarbha and the lady Sumati, daughter of Maharishi Kashyapa. He would become the father of 60,001 sons.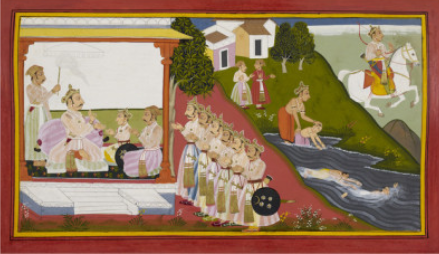 Nevertheless, while he remains celebrated for his descendants, he is worthy of remembrance and respect for his own righteous valour.
Invasion
Now that the motivated nature of "invasions of India" has been illustrated for neophyte readers, it is important give an example of exactly why we must not be so naïve and conventional in order to be thought of as "credible" in the present time. When the history of the Kings of Britain can begin with a Trojan Prince, when Rome begins with Romulus & Remus (reared by a wolf), when Homer himself made reference to Greek gods on the plains of Ilium, the time has come for the legendary history of Hisarlik to be matched and exceeded many times over by our own. That foreigners have long cast their eyes on the sona chidiya of India is not news; but it needs to be understood that many from the Yavanas of Yore onwards, were made to pay the price for their insolence and audacity. Sagara is the proverbial patron Pitr for that.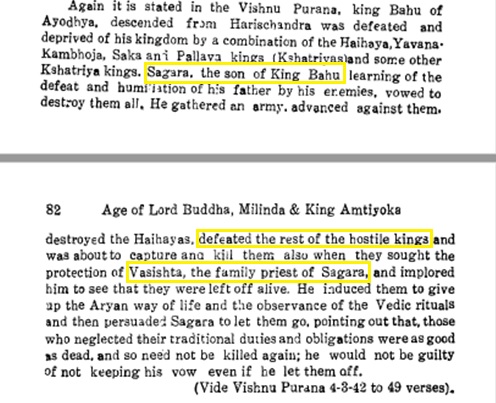 Oath and Victory over the Yavanas
When Prince Sagara came of age and was crowned King of Kosala, he learnt of the invasion of the Haihayas and their Yavana allies, and swore an oath to defeat and drive them out.  With the blessings of his teacher, Rishi Aurva, he set out on campaign and was victorious.
But Sagara did not just defeat and forgive the Yavanas, like so many proverbial Prithiviraj Chauhans of the present age. He crushed them, utterly uprooted them, and taught them a lesson they would never forget. He sent a clear message that there is a price to pay for those who plan to try to take our territory. Read for yourself: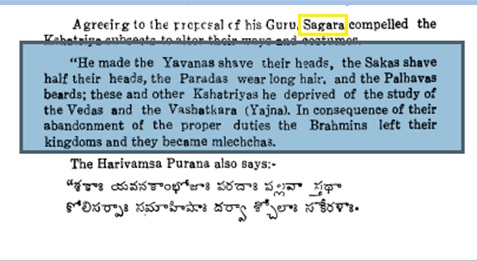 Achievements
Despite the fact that per the traditional Pauranic reckoning Sagara came from a very ancient period of Sacred History (the Satya Yuga), he nevertheless, provides a steely example of resolute opposition to invasion, castigating those who would dare transgress our lands and cast designs upon us. He also demonstrated fortitude in the face of formidable enemies.
"But although the Haihayas received a set-back, they grew in power, and their dominions stretched from the gulf of Cambay to Ganga-Yamuna Doab, and thence to Banaras. They overthrew the kingdoms of Ayodhya and Kanyajubja, and many other kingdoms in the north-west, with the co-operation of various foreign tribes. The king of Ayodhya driven from his throne, took refuge in the forest, and died there, leaving a child Sagara. Sagara, on reaching manhood, defeated the Haihayas, and regained Ayodhya. He extended his campaign, crushed the Haihayas in their own territories, and subdued all the other enemies in North India. India was thus saved from age-long struggles and depredations, bringing ruin and carnage in their train." [1,69]
War
He is said to have warred with and conquered the Saka, Yavana, the Kamboja, the Parada, and Pahlava [6]
In war, Sagara was a veritable Indra, so much so that Indra himself is said to have been concerned, and disturbed his Ashvamedha. He did so by tying the white horse beside Maharishi Kapila, resulting in the misunderstanding by the 60,000 sons of Sagara.
Skilled in archery and the other arts of War, the stern Sagara destroyed his enemies, drove them out of Ayodhya and restored the glory of his Dynasty. He conquered numerous kingdoms and became an Emperor.
Empire
Per R.C.Majumdar, Sagara ruled a vast empire across the Aryavarta:
"When Sagara established his empire over Northern India, the only noticeable kingdoms that survived were the Videha, Vaisali and Anava (descendants of Anu) kingdoms in the east, Kasi in Madhyadesa, and the Yadava kingdoms in Vidarbha, and on the Chambal. After the death of Sagara, the overthrown dynasties seem to have extended their authority northward over the Haihaya territory."[2, 69]
Jain sources refer to him as one of the Chakravartins (Universal Emperors).
Ashvamedha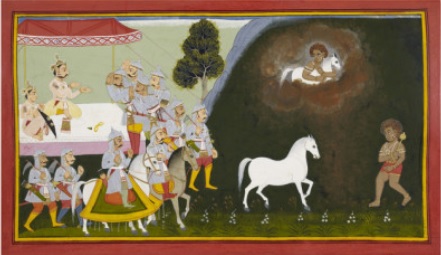 Despite his great accomplishments, Sagara is perhaps most famous for the Ashvamedha yagna, which raised to prominence his own descendants. The privilege and aim of every great Dharmic king is to assert his supremacy by guarding the sacred horse that travels as it pleases. Kingdoms which do not pay homage must face war against the army accompanying the ashva.
As previously mentioned, Sagara's 60,000 sons were known to be quick-tempered, and so when Indra fooled them into thinking the venerable Sage Kapila was responsible for stealing the horse, they aggressively approached and berated him. The tapas and punya of this muni was so great, that by merely opening his eyes, these sons of Sagara were burnt to ashes. Sagara was initially devastated, but was told that one of his descendants would redeem his sons by bringing down the Ganga through penance. His heir apparent Asamanjas proved unworthy of the throne, and so he forced to abdicate in favour of his son Anshuman. Anshuman failed to bring down the Bhagirathi, as did his son Dileepa (the first one). Finally, the Great Great Grandson of Sagara succeeded, to eternal fame. Sagara himself therefore was the paramount sovereign, but also, the fountain of the family who changed the face of India itself.
Legacy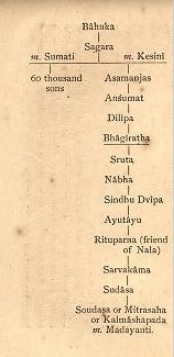 Standing tall among the tallest line of India's illustrious kings of past, Maharaja Sagara is more than an epic ancestor or a literary reference, he is a great figure of our Pauranic history in his own right, and deserving of his rightful place in it.
He will forever be associated with the name Bhagiratha, and in the process, the Ganga itself. Legendary though these days are, they are intertwined with the story of India's most sacred river and the Solar race that is eternally associated with her.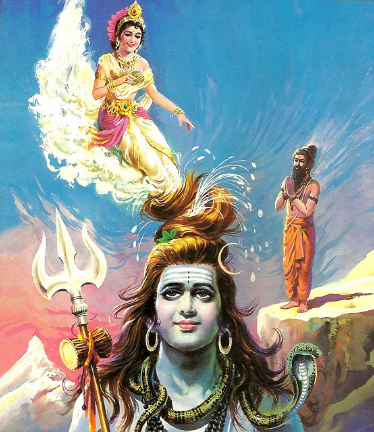 Ramayana
It is perhaps unsurprising that in a lineage consisting of such noble figures as Satya Harishchandra, Ambarisha, Bhagiratha, Raghu, and Dasaratha, that Sagara would feature so notably, so early on in the Ramayana. That Rama is the Ikshvaku-kula-thilaka is beyond a doubt, but that he represented the peak of an already majestic mountain of maharajas is oft-forgotten.
Beyond the Ramayana, Sagara is mentioned in other texts such as Harivamsa (attached to the Mahabharata) and the Vishnu Purana.
Exemplar
Sagara may not be considered an "historical personality" per our modern history, but is undoubtedly a figure worth of veneration from our Sacred History. When the British start with the legendary Trojans Aeneas & Brutus, the Romans with Romulus and Remus, and the Chinese with the legendary Xia Dynasty, there is no reason we cannot start with Sagara. Sagara may not be the first of our kings even in our Legendary history (that credit goes to Svayambhuva Manu), but he was arguably the first in the present age to provide an example on the attitude to have and how to deal with foreign invaders.
More than the grandsire of Bhagiratha, more than the ancestor of Rama, the great King Sagara is an example of stern, serious, and strategic defense of Dharma and its sacred lands, that is required in the present time. It has no time for boorish babbling, pedantic piffle, idle talk, self-righteous moralising, counter-productive caste obsession, cowardly silence, or childish infighting . It requires, instead, single-minded focus to root out those who would do us and our Vedic heritage harm.
It requires understanding how to work together and collaborate internally against those who cooperate externally against us. But above all, Sagara provides a shining example of how since even legendary times, we have tales of successfully defeating invaders. India is not a product of Invasion; India is a product of victory over Invasion…(no matter how long it takes). If those who control the past, control the future, let us take back control of our past, by taking control of our present. Reject those weaving colonial and neo-colonial memes by hook-or-by-crook, and do your duty to Dharma first. Otherwise,  you not only will have no seat at the table in the future, but you will have no legitimacy while  pontificating like paper-tigers now.
Let the Legacy of the Mighty Emperor Sagara be our example, and let us redeem ourselves, by vindicating our forebears, not through boastful claims, but great and dharmic deeds.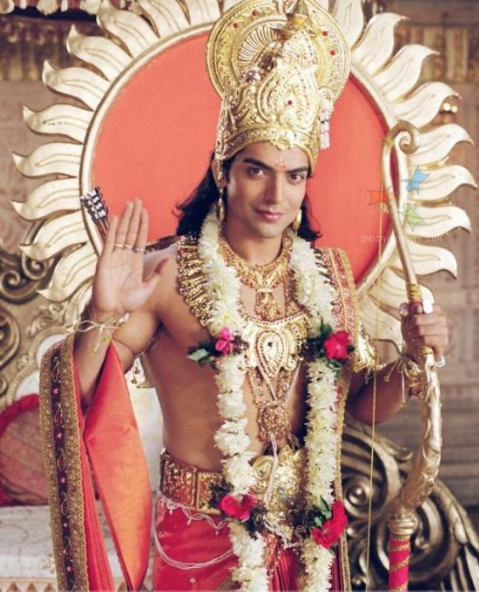 References:
Kota, Venkatachalam Paakayaji (Pandit). The Age of Buddha, Milinda, and Amtiyoko. Guntur: Sri Ajanta Printers.1956
Majumdar,R.C.Ancient India. MLBD: Dehli.2003
 Ramayana. http://www.valmikiramayan.net/ayodhya/sarga110/ayodhya_110_prose.htm
Srimad Bhagavatam. http://srimadbhagavatam.org/canto9/chapter8.html
Wilson, Horace Hayman (Ed.).The Vishńu Puráńa: A System of Hindu Mythology and Tradition.
Balfour, Edward. The Cyclopædia of India and of Eastern and Southern Asia. London: Bernard Quarditch. 1885